Title:
The Curse of the Wendigo
Author:
Rick Yancey
Published:
October 12, 2010
Publisher:
Simon & Schuster
Series:
The Monstrumologist #2
Genre:
Young Adult Paranormal, Historical Fiction, Horror
Pages:
424
Source:
Purchased
Rating:
5 stars
Goodreads
|
Amazon
|
Barnes & Noble
*This book review is spoiler free*
"There are things that are too terrible to remember, and there are things that are almost too wonderful to recall."
― Rick Yancey, The Curse of the Wendigo

Synopsis
While attempting to disprove that Homo vampiris, the vampire, could exist, Dr. Warthrop is asked by his former fiancé to rescue her husband from the Wendigo, a creature that starves even as it gorges itself on human flesh, and which has snatched him in the Canadian wilderness. Although Warthrop also considers the Wendigo to be fictitious, he relents and rescues her husband from death and starvation, and then sees the man transform into a Wendigo.

Can the doctor and Will Henry hunt down the ultimate predator, who, like the legendary vampire, is neither living nor dead, whose hunger for human flesh is never satisfied?

This second book in The Monstrumologist series explores the line between myth and reality, love and hate, genius and madness. (Goodreads)
My Thoughts
I thought it was impossible to love
The Curse of the Wendigo
as much as I loved
The Monstrumologist
. I was wrong. While
The Curse of the Wendigo
is not as terrifying or gruesome as its predecessor, it is a beautifully written, suspenseful and evocative read in a series that continues to impress.
In
The Curse of the Wendigo
, we once again follow Pellinore Warthrop and Will Henry on a monster hunt. But the quarry this time is much more elusive than the vicious Anthropophagi we met in
The Monstrumologist
. Throughout the book, the reader remains unsure of what exactly the doctor and his assistant are hunting. Is it an old friend of Warthrop's gone mad after becoming lost in the wilderness and nearly starving or is it a Wendigo, a terrifying creature that feasts upon humans but can never fully satisfy its hunger?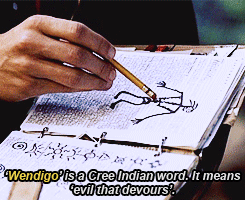 With
The Curse of the Wendigo
, Yancey has proven himself a master of the horror genre once again. Even in the beginning of the book, when a monster has yet to appear, the chilling atmosphere and bleak outlook made for a horrific read. The scares just keep coming, but at the same time, Warthrop and Will's relationship serves as a meaningful backdrop to the action and brutality. I love these two. They deny that they need each other, but then they show that the exact opposite is true in disastrous situations. Warthrop might not be the best father figure, but Will looks up to him nonetheless, especially since he has no one else. I also loved seeing Will Henry grow into a braver, more assertive individual who takes action when his teacher (master?) is in peril.
Of course, there's a whole new cast of individuals in
The Curse of the Wendigo
. In this book, the monstrumologists gather for some secret conference to report on their findings, and we are finally given the chance to meet some others of the monstrumological profession. There are some real characters in this bunch. Two of my favorites have to be von Helrung, Warthrop's old teacher, and his great-niece Lilly. Von Helrung seems to actually care for Warthrop, despite the latter's prickly demeanor, and Lilly's so exasperating and nosy and such a knowitall and I loved her! She's constantly picking at Will Henry because she likes him - sort of a Helga and Arnold kind of situation. At last, we see that Warthrop actually does have a past. Well, obviously, he does, but it's hard to imagine Warthrop being with anyone. His old flame reappears, and the drama unfolds. I loved learning more about Warthrop and seeing that there is more to him than I first assumed.
While
The Monstrumologist
explored the fears that fall under the nightmarish monsters under the bed category,
The Curse of the Wendigo
takes a closer look at the human psyche. When does a human become the very creature he hunts? What line do you have to cross to become indistinguishable from a monster? It was definitely unsettling to witness how difficult it was for monstrumologists, experts in this line of work, to determine whether or not the Wendigo truly existed. Many believed that the Wendigo was just a myth. But if the Wendigo is, in fact, fictitious, this reveals a horrible truth: a human was capable of these acts. This so-called Wendigo mutilates his prey and feasts upon their flesh. So how are monsters so different from humans when humans commit such atrocious acts? It was disturbing to consider and also enlightening and applicable to everyday reality.
I love how
The Monstrumologist
series is written in epistolary form. Rick Yancey signs the introduction and epilogue, claiming that he found these folios and merely published them. Real life characters, like Algernon Blackwood and Bram Stoker, make an appearance in
The Curse of the Wendigo
, and it is implied that Warthrop's ongoing investigation inspired their classic literary works. All of this adds an even creepier feel to the series, making you wonder, what if monsters do exist...? Or not.
If you have yet to begin this phenomenal series, I advise you to get on that ASAP. If you don't feel like committing to an entire series, don't fret. Each book chronicles a different adventure so they could even act as standalones. But I have a feeling that once you start
The Monstrumologist
series, you won't be able to stop.