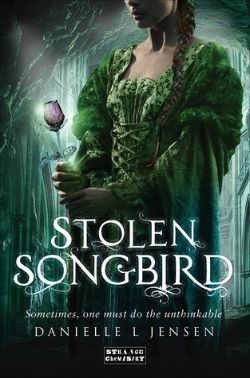 Title:
Stolen Songbird
Author:
Danielle L. Jensen
Published:
March 30, 2014
Publisher:
Strange Chemistry
Series:
The Malediction Trilogy #1
Genre:
Young Adult Fantasy
Pages:
480
Source:
Purchased
Rating:
3.5 stars
Goodreads
|
Amazon
|
Barnes & Noble
"Dying was an easy thing to accomplish, effortless in its agony. It was living that was hard, requiring endless toil and labor, and for all one's efforts, it could be stolen in an instant."
―Danielle L. Jensen, Stolen Songbird

Synopsis
For five centuries, a witch's curse has bound the trolls to their city beneath the ruins of Forsaken Mountain. Time enough for their dark and nefarious magic to fade from human memory and into myth. But a prophesy has been spoken of a union with the power to set the trolls free, and when Cécile de Troyes is kidnapped and taken beneath the mountain, she learns there is far more to the myth of the trolls than she could have imagined.

Cécile has only one thing on her mind after she is brought to Trollus: escape. Only the trolls are clever, fast, and inhumanly strong. She will have to bide her time, wait for the perfect opportunity.

But something unexpected happens while she's waiting – she begins to fall for the enigmatic troll prince to whom she has been bonded and married. She begins to make friends. And she begins to see that she may be the only hope for the half-bloods – part troll, part human creatures who are slaves to the full-blooded trolls. There is a rebellion brewing. And her prince, Tristan, the future king, is its secret leader.

As Cécile becomes involved in the intricate political games of Trollus, she becomes more than a farmer's daughter. She becomes a princess, the hope of a people, and a witch with magic powerful enough to change Trollus forever. (Goodreads)
My Thoughts
Having just finished
Stolen Songbird
not even 10 minutes ago, I am left reeling from the ending and I just had to pour out my thoughts immediately.
Stolen Songbird
has all the makings of a wonderful fantasy, with an underground kingdom cursed to remain hidden away, a strong but slowly maturing protagonist discovering her secret abilities, and a romance that will linger in your mind long after you've finished the last page. Yes, I'll admit that
Stolen Songbird
had its faults, but this did not lessen my appreciation of Jensen's enchanting debut.
Stolen Songbird
takes us on a journey into an underground kingdom called Trollus, a city of trolls and magic and deceit, of both darkness and also light found in the most unexpected of places. Our protagonist, Cécile, was not remarkably different from other protagonists I have encountered in the fantasy genre, but I liked her no less. At first, I was unsure if I would come to respect or even like our heroine, but as the story progressed, she emerges as a compassionate, capable individual despite her limitations as a human. Compared to the trolls, she is weak and vulnerable, but I found her limitless endurance in the face of so many terrors to be quite admirable. Having just realized that what she mistook for willpower was actually magical influence, she is slowly coming into her newfound powers and discovering her true potential. I cannot wait to see how her abilities evolve throughout the series, as I'm sure her magic will come in handy later on.
In regards to the world building, I found the history of Trollus and the curse placed upon the trolls within its borders fascinating. While
Stolen Songbird
reads at a slower pace, never mistake it for a boring read. As the story slowly unfolds, more interesting tidbits are revealed, giving us a clearer picture of the dire straits the trolls are in. All of Trollus's inhabitants are stuck inside the mountain, unable to leave past a magical barrier and constantly using their own magic to hold up the ceiling of rock above them. These issues alone would be enough to stress the trolls, but on top of all this, tension is building in the lower classes of half-bloods and a rebellion is only waiting to be set in motion. Carefully, through her investigations and research, Cécile uncovers more about an ongoing class struggle that has lasted for centuries. As Cécile begins to side with the rebellion's cause, we witness the unfair treatment of half-blood trolls and humans, and I could not help but sympathize with their plight. Half-bloods are assigned to the deadliest of jobs, and then they are discarded when they are deemed useless. Humans, considered the lowliest of the low, are no better than vermin in the eyes of the trolls. Cécile is the only exception, having been bonded to the heir to the throne, and with her arrival, the rebels can finally begin to hope for a victorious outcome.
Along with a likable protagonist and fantastic storytelling,
Stolen Songbird
offers a slow burn romance that will have any romantic swooning. I will admit that I found Tristan's physical description a little bothersome, seeing as of course he
had
to be undeniably attractive, as he's a prince and the love interest and yada yada. You see, Tristan hardly resembled the trolls I've found in other tales, with his gorgeous appearance and humanistic features. But despite this overused character description, I still loved him. Even with his high status and considerable powers, any haughtiness or cockiness he displayed was all for show. He genuinely cares for his people, unlike the current king, his father, and he has greater plans for the future of Trollus. Not only is he a driven individual, but he casts off all the prejudices other trolls hold against humans. Simply put, he was a wonderful love interest, and I found the slowly developing trust and mutual affection between him and Cécile to be absolutely adorable.
While I found
Stolen Songbird
to be a solid story overall, there were some weaker parts in the story that could have been more developed. We encounter many characters, including a few villains, and while their deviousness was regularly mentioned, I felt like they could have made a few more appearances or a stronger statement as to their intentions. I required a deeper understanding of the villain's motives and some more background, and I hope Jensen will deliver later on in the series. These characters had some great potential, but they were never fully realized, leading me to think of cardboard cutouts. These 2-dimensional characters served an obvious purpose, whether to be the bad guy or the trusty friend, but they didn't add enough to the story, and I can only hope they do so in the future installments.
Stolen Songbird
is mainly narrated by Cécile, but there are several chapters told from Tristan's point of view. The switch back and forth between Cécile and Tristan wasn't that frequent, so I never felt confused, especially since each chapter was clearly labeled Cécile or Tristan. I've mentioned my feelings about multiple POVs before, and how I much prefer a story told from a single POV throughout. This story only has me sticking to that belief all the more firmly, as I found it entirely unnecessary to have us hear events from both of their sides. Yes, it was intriguing to read Tristan's thoughts, but it took away some of the suspense that I always crave when slowly discovering a fantasy world. I think some mystery would have served
Stolen Songbird
better, and when we are privy to Tristan's thoughts, we miss out on some of the wonderful discoveries we could have made on our own instead of reading it explicitly in Tristan's sections. I can understand why Jensen made the decision to have multiple POVs, but, ultimately, I believe that
Stolen Songbird
would have been a more gripping read if it had been solely told from Cécile's POV.
Regardless of these couple of complaints, the ending of
Stolen Songbird
left me begging for its sequel immediately. It toyed with my emotions, surprised me, and ensured that I would pick up the next book in this series. I would definitely recommend Jensen's debut to any fans of fantasy. It left me dissatisfied, but only because I want the sequel now for some more answers!