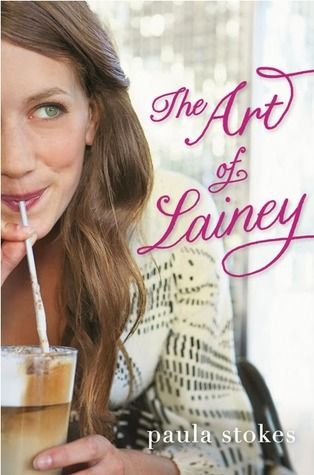 Title:
The Art of Lainey
Author:
Paula Stokes
Published:
May 20, 2014
Publisher:
HarperTeen
Genre:
Young Adult Contemporary
Pages:
384
Source:
Library
Rating:
4 stars
Goodreads
|
Amazon
|
Barnes & Noble
"Standing up for yourself is about more than flinging barbed-wire insults around. Its about picking your battles, knowing when to fight, knowing exactly what and who is worth fighting for."
― Paula Stokes, The Art of Lainey

Synopsis
Perfect for fans of Stephanie Perkins, Sarah Dessen, and Susane Colasanti, The Art of Lainey tells the story of how, with the help of The Art of War, Lainey plots the perfect plan to get her boyfriend back. But is getting him back really what she wants?

Soccer star Lainey Mitchell is gearing up to spend an epic summer with her amazing boyfriend, Jason, when he suddenly breaks up with her—no reasons, no warnings, and in public no less! Lainey is more than crushed, but with help from her friend Bianca, she resolves to do whatever it takes to get Jason back.

And that's when Lainey and Bianca stumble across a copy of The Art of War. With just one glance, the girls are sure they can use the book to lure Jason back into Lainey's arms. So Lainey channels her inner warlord, recruiting spies to gather intel and persuading her coworker Micah to pose as her new boyfriend to make Jason jealous.

After a few "dates," it looks like her plan is going to work! But now her relationship with Micah is starting to feel like more than just a game. Can fighting for what she wants help Lainey figure out what she really needs? (Goodreads)
My Thoughts
At first glance,
The Art of Lainey
may look like a light, fluff-filled beach read, but this shows why you should never judge a book solely by its cover. There were times when the book seemed a bit too young for me, as I rolled my eyes at Lainey's immaturity and self-absorption. But as the novel progressed and Lainey gained a deeper understanding of herself and others, I couldn't help but fall in love with this charming debut.
Some authors will slowly ease into the plot, introducing the characters and allowing us to settle in before dealing a heavy-handed blow. Not Stokes. She cuts right to the chase in
The Art of Lainey
, having Jason dump Lainey only a few pages in, and therefore, capturing my interest right off the bat. Of course, this development was no shocker, given it's clearly spelled out in the synopsis. Yet it still jolted me, leaving me to cycle through a myriad of emotions alongside Lainey. Despite having just met Lainey, I still shared her bafflement and rage, and I felt the same sharp pang of betrayal that she did, having also been heartbroken in the past. Anyone who has ever felt their heart shatter into a million pieces will be able to relate to Lainey, and as such, will be able to understand her desire to get Jason back, even as we realize it is not the wisest course for her to take. Lainey has fallen in love with the idea of being with Jason, blind to the knowledge that it is no longer meant to be, and it is best to move on. Lainey refuses to let go, and as such, she hurts herself all the more, as we watch powerless to stop her before she makes a mistake.
Lainey may not always be a likeable main character, but she really grows and matures throughout
The Art of Lainey
. She starts off very shallow and self-absorbed, and I couldn't believe some of the things she said. I could only shake my head in disbelief, wondering how other characters could simply brush her off or laugh at her behavior. Yes, Micah and other characters do acknowledge her behavior, and for that, at least, I am grateful that it is does not go unnoticed. I had to constantly remind myself that she is a teenager, and that she has been heavily influenced by her group of friends. As
The Art of Lainey
progressed, I rejoiced in her transformation from just one of the popular crowd to a unique individual who has discovered an interest in punk rock and plays, who aspires to a future playing soccer, and whose happiness doesn't depend on having a boyfriend. For so long she has been wrapped up in what others have wanted for her, like her friend and ex's sister, Kendall, who wants to change her. She has lost sight of who she really is and what really matters. When Jason breaks up with Lainey, she clings to the notion that he is all she had, that their relationship added meaning to her life, and she has to get him back to return things to normal. It was sad and desperate, and I wanted to reach into the book, grab her by the shoulders and shake some sense into her. But at the same time, I wanted to pat her on the back, give her a big hug, as I watched all of the hurt and pain slowly pour out of her.
The romance that develops may be predictable, but it is also sweet and touching. When I started
The Art of Lainey
, I was concerned that Lainey would just move from one guy to the next, continuing this vicious cycle where Lainey is dependent on a boyfriend for happiness. Luckily, this is not the case. Her love interest serves as a shoulder to lean on, a confidante, someone who finally understands Lainey for who she really is, but he is not her everything or her entire reason for living. With him, Lainey can be herself, and she can also have a healthy relationship where popularity and status are inconsequential. The romance takes a long time to develop, as Lainey recovers from past wounds, but this just makes it all the more rewarding in the end.
While I enjoyed the romance in
The Art of Lainey
, when I look back, what truly stood out to me is not the romance, as sweet and swoon worthy as it may be, but the close friendship that is shared between Lainey and her best friend Bianca. Bianca serves as Lainey's voice of reason, grounding her in reality when Lainey would rather cling to denial. She is the one who devises this entire scheme, while at the same time, she tries to gently steer Lainey onto a new path, encouraging her to move on. It is Bianca that helps Lainey realize all she has going for her, and that she doesn't need a boyfriend to feel complete or happy. It's always nice to see a friendship heavily focused on in a young adult book, and Bianca is a loyal, true blue friend, and someone who doesn't participate in backstabbing or petty rumors. Their friendship moved me, and I loved how it didn't take a backseat to the romance.
The Art of Lainey
took me by surprise, captivating me from the start as I flipped through the pages like a woman possessed. I would recommend this to any fans of YA contemporary. It's well worth picking up, and I'm excited to see what Stokes writes next.