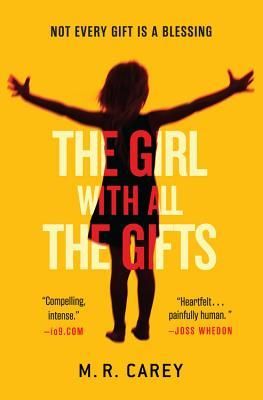 Title:
The Girl with All the Gifts
Author:
M.R. Carey
Published:
June 19, 2014
Publisher:
Orbit
Genre:
Young Adult Post-Apocalyptic, Horror
Pages:
460
Source:
Publisher via Netgalley
Rating:
4.5 stars
Goodreads
|
Amazon
|
Barnes & Noble
"you can't save people from the world. There's nowhere else to take them."
― M.R. Carey, The Girl with All the Gifts

Synopsis
NOT EVERY GIFT IS A BLESSING

Every morning, Melanie waits in her cell to be collected for class.

When they come for her, Sergeant Parks keeps his gun pointing at her while two of his people strap her into the wheelchair. She thinks they don't like her. She jokes that she won't bite. But they don't laugh.

Melanie is a very special girl.

Emotionally charged and gripping from beginning to end, THE GIRL WITH ALL THE GIFTS is the most powerful and affecting thriller you will read this year. (Goodreads)
My Thoughts
I've been looking forward to reading
The Girl with All the Gifts
for some time, knowing that I would love it. Everything about it, from the intriguing, unclear synopsis to the stunning cover, had me wanting it immediately. I'm not usually into zombie books, with the exception of some like
This Is Not a Test
, but
The Girl with All the Gifts
is another book that focuses more on the development of the characters than it does the hungries (what the zombies are called in this book). Yes, we're given plenty of information about the hungries and the infliction from a scientific standpoint, which I found fascinating, and we see some hungry attacks, but there's so much more to this book than pure, raw fear and bloody gore. It's a harrowing tale that plucks your heartstrings, and fills you up with raw emotion.
Where
The Girl with All the Gifts
hit hardest is in its stark depiction of a world bereft of life, our world gone to ruin. Houses are empty shells, falling apart without the care of humans, and nature is slowly reclaiming its hold on our civilization. Stores still stand, but there is no one left to shop in them or run them, and they have been raided for food by people who have most likely died long ago. It wasn't easy reading the bleak descriptions of our world gone to hell, but it made it all the more real for me. It has been around 20 years since the Breakdown, and though there are still traces of a time long past lingering everywhere, there remains little hope for the dying race of humanity. I could almost feel the ghosts of the past creeping in every so often, with the memory of a children's classroom, or an uninhabited house that holds all the mementos of a family long gone. It made for a very creepy atmosphere, as I waited for a hungry to jump out at any moment, while also mourning the loss of entire cities, of whole populations of people.
The Girl with All the Gifts
is at times a horrific read, showing no mercy as our characters come against one obstacle after another, trying to find sanctuary where there seems to be none. Like a horror movie, I was constantly wondering is there a hungry around that corner, will someone get bitten, or will the junkers catch up with them at last. The suspense is terrifying, and it's the slow creeping anticipation of what might come next that honestly did me in, and upped my anxiety until I could hardly bear it. But there are small breathers, moments of relief where Miss Justineau, Sergeant Parks, Dr. Caldwell and Gallagher can share in a drink, or stumble upon some find from the past, or can feel secure for a few hours. Those moments were the best, as we're given a deeper look into each of their personalities, and we watch as some of the characters slowly open up to each other. The POV shifts between the five members of the team, and while I'm usually not a fan of multiple POVs, I actually didn't mind it so much in this one because each character stood out as unique.
The bonding moments shared between Melanie and Miss Justineau were the scenes that really stood out for me in
The Girl with All the Gifts
. I was deeply affected by Melanie's trust in her teacher and almost mother like figure, so much that I almost teared up on several occasions. Her trust almost borders on blind faith, and her unconditional love for Miss Justineau is touching to witness. Miss Justineau also cared for Melanie in return, and took up a position as her protector, just as Melanie would protect her at times, and it was a lovely relationship to watch as it unfolded.
If I had any issues with
The Girl with All the Gifts
, it would just be a small complaint. I felt like the ongoing battle between the junkers and the other humans was leading up to some major conflict, only to leave me confused when it never happened. I understand the purpose the junkers serve, and that they were another enemy besides the hungries, but I couldn't help feeling like I needed more background as to why they didn't seek shelter on the bases after the Breakdown. I was really curious about them, and I wanted just a little bit more info, but I suppose in the larger scheme of things, they weren't as important as the hungries and the conflicts within the team.
Overall,
The Girl with All the Gifts
took ahold of me, and didn't let go until I finished the last page. It was a suspenseful read, leaving me at the edge of my seat, pulse jumping in constant fear of what would happen next. I would recommend this to anyone who loves a good zombie, post-apocalyptic read, even if you're not a horror fan. I would say it's more suspenseful than scary, and it makes for a meaningful read, grim but also moving.
I received this book for free from the publisher in exchange for an honest review. This in no way affected my opinion of the book or the content of my review.