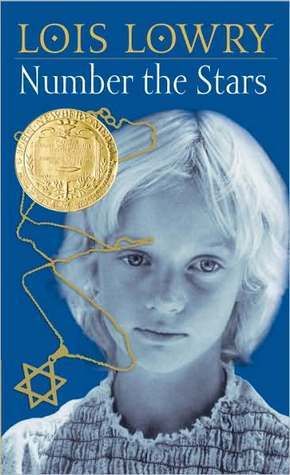 Title:
Number the Stars
Author:
Lois Lowry
Published:
1989
Publisher:
Yearling
Genre:
Children's Historical Fiction
Pages:
137
Source:
Borrowed
Rating:
5 stars
Goodreads
|
Amazon
|
Barnes & Noble
"It was all imaginary, anyway—not real. It was only in the fairy tales that people were called upon to be so brave, to die for one another. Not in real-life Denmark. Oh, there were the soldiers; that was true. And the courageous Resistance leaders, who sometimes lost their lives; that was true too. But ordinary people like the Rosens and the Johansens? Annemarie admitted to herself, snuggling there in the quiet dark, that she was glad to be an ordinary person who would never be called upon for courage."
― Lois Lowry, Number the Stars

Synopsis
Ten-year-old Annemarie Johansen and her best friend Ellen Rosen often think about life before the war. But it's now 1943 and their life in Copenhagen is filled with school, food shortages, and the Nazi soldiers marching in their town.

The Nazis won't stop. The Jews of Denmark are being "relocated," so Ellen moves in with the Johansens and pretends to be part of the family. Then Annemarie is asked to go on a dangerous mission. Somehow she must find the strength and courage to save her best friend's life. There is no turning back now. (Goodreads)
My Thoughts
Believe it or not, this is my first time reading
Number the Stars
. Of course, I've read Lowry's The Giver along with other books from that series, but somehow, I missed out on this childhood favorite. I know that is unforgivable! It's such a shame that I went years without reading this. It's inexcusable, and I'm happy I finally picked it up because
Number the Stars
was well worth my time. Now I finally understand all of the hype and why it received the Newberry medal, as
Number the Stars
is truly a treasure. This book will have you feeling emotionally affected weeks, months, and maybe even years after you've finished it. It's a poignant, touching read about the unbreakable bond shared between two friends, two friends who may have different religious beliefs but who never let that come between them.
In
Number the Stars
, it has been three years since Denmark's King Christian surrendered to Germany, knowing his small army was ill-equipped to fight off Hitler's forces and many Danes would die if they went to war. Now, in Nazi-occupied Denmark, there are German soldiers posted on every corner, spreading fear through the masses. Food and electricity are rationed, and Annemarie has trouble remembering what it was like to live in peacetime, when sugar, meat and leather shoes were in regular supply, when their country felt safe and protected under the leadership of their beloved king.
At first, Annemarie is blissfully unaware of the hardships her country is facing. Even though she is frightened of the soldiers, she believes that her family and Ellen's family could never come to harm. They are ordinary people, and in her naiveté, she believes their normalcy protects them from the casualties of war. In her eyes, only the resistance fighters and soldiers die in wartime, and she does not realize the severity of the situation until later on. When the Germans start to collect the names of Jewish families from the synagogues, Annemarie's parents help their Jewish neighbors, the Rosen family, to escape. They take in Annemarie's best friend Ellen Rosen, and pretend that she is one of their daughters to keep her from being taken in a nighttime raid. With danger at every turn, Annemarie discovers that even normal little girls like herself can muster up enough courage to do the right thing in dark times.
After reading so many YA books that feature romance lately, it was refreshing to read a children's book that focuses so strongly on friendship. The friendship between Annemarie and Ellen had me longing for the days of my childhood, when things were uncomplicated, and there was never any of the drama you'll find later on in middle school, high school and so on. Those were the carefree, innocent days, and I miss them all of the time. Yet, at only 10 years old, Annemarie and Ellen can no longer afford to hang onto their childhood innocence in such a dark time period. Despite the forces that endeavor to wrench them apart, Annemarie and Ellen remain close friends. If anything, their unfortunate circumstances only serve to bring them closer together. As they face their fears, they begin to understand their dark reality and they are forced to grow up at such a young age.
Number the Stars may be a quick read, but it definitely isn't a light one, as it imparts a substantial message, one of self-sacrifice and friendship. I love reading books that take place in WWII, like The Book Thief and Between Shades of Grey, and Number the Stars is another favorite to add to the list. These books refuse to let us forget the monstrosities that occurred during this time in history, so that we never repeat our mistakes. Yet. at the same time, they also give us hope, as even in the darkest times, people stick together and they help each other.
I warn you that Number the Stars is an emotional read for a children's book. Yes, there are lighthearted moments scattered without: when Annemarie and Ellen take comfort in each other's friendship, when they are just children having fun, when Annemarie's mother recollects fond memories of her childhood home. There are the small scenes that stick out and give the reader hope that these characters can return to a happy way of life, such as when the girls race down a street in Copenhagen with total abandon or the image of Annemarie's younger sister, Kristi, curled up asleep with a kitten. Kristi brings a certain wide-eyed innocence to the tale, as she remains ignorant of the dangers that surround her. She entertained me with her childishness and guileless manner, even as I feared for the family's safety. Yet, even so, this gripping tale left me short of breath at times, frightened for the safety of Annemarie and her loved ones. It was only after I closed this book that I could finally relax and let out a long held breath.
I'm sure many of you have already read
Number the Stars
, maybe even many years ago in elementary school. But, if like me, you somehow missed out on this childhood favorite, I strongly urge you to read this book as soon as humanly possible.
Number the Stars
resonated deeply with me, and I'd highly recommend it, especially to anyone who loves books about WWII and/or friendship.