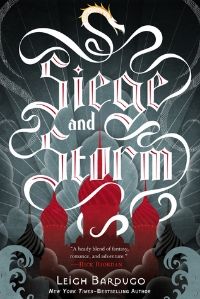 Title:
Siege and Storm
Author:
Leigh Bardugo
Published:
June 4, 2013
Publisher:
Henry Holt and Co.
Series:
The Grisha #2
Genre:
Young Adult Fantasy
Pages:
432
Source:
Purchased
Goodreads
|
Amazon
|
Barnes & Noble
*Warning: This book review contains spoilers for Shadow and Bone*
"The ox feels the yoke, but does the bird feel the weight of its wings?"
― Leigh Bardugo, Siege and Storm

Synopsis
Darkness never dies.

Hunted across the True Sea, haunted by the lives she took on the Fold, Alina must try to make a life with Mal in an unfamiliar land. She finds starting new is not easy while keeping her identity as the Sun Summoner a secret. She can't outrun her past or her destiny for long.

The Darkling has emerged from the Shadow Fold with a terrifying new power and a dangerous plan that will test the very boundaries of the natural world. With the help of a notorious privateer, Alina returns to the country she abandoned, determined to fight the forces gathering against Ravka. But as her power grows, Alina slips deeper into the Darkling's game of forbidden magic, and farther away from Mal. Somehow, she will have to choose between her country, her power, and the love she always thought would guide her--or risk losing everything to the oncoming storm. (Goodreads)
My Thoughts
I had already read Siege and Storm once before during my blogging hiatus last year, but I wanted to reread it and give it the positive review it deserves before I read Ruin and Rising. If possible, I enjoyed Siege and Storm even more the second time. I fell in love with the Grishaverse all over again, and I loved revisiting Ravka and all of its surrounding countries. Rereading it, I noticed small details I had missed the first time I read it. Since I already knew what was going to happen, I could pay more attention to the little things, such as the secondary characters and their developing personalities. Even though I had read it before, I was still deeply immersed in the storyline. I found it difficult to put the book down when food, sleep and work interfered with my reading time. I could have easily read it in one sitting if it hadn't been for life and responsibilities getting in the way.
In
Siege and Storm
, our protagonist, Alina, has escaped the Darkling's clutches only to be snatched up again just when she thought they had reached safety. Yet the tables turn when she discovers an unexpected ally in the privateer Sturmhond, a man who is not at all who he seems to be, but who can offer her the resources she needs if she is to have any hope of defeating the Darkling. Unsure of Sturmhond's motives, wary of potential spies among her fellow Grisha, and trying to hold onto Mal as he slowly drifts away, Alina has never felt more alone. As her growing powers slowly change her, her hunger for power only increases, and she begins to lose hold of herself.
Siege and Storm
is exactly what a sequel should be, as it doesn't suffer from the infamous middle book syndrome. So many events transpire, and every single one means something for the entire series, instead of simply leading up to the final book. Not only are we introduced to new characters, including my new favorite (Sturmhond!), but we are also given a deeper look into Alina's changing personality. How will she hold up under all of the recent changes? Will she follow in the Darkling's footsteps and be corrupted by her greed for more power? Will she withstand all of the pressure and emerge as a capable leader? Alina Starkov is no longer the simple peasant we first met at the start of S
hadow and Bone
, and no longer a common orphan from Keramzin. She has come a long way since those first days as a mapmaker for the First Army. She has made friends and lost them to betrayal, she has found enemies and escaped their clutches, and most importantly, she is evolved into more than just another Grisha. She is Sankta Alina who has many devoted followers, the Sun Summoner who is slowly earning the respect of her fellow Grisha, and perhaps the only hope Ravka has for beating the Darkling's forces.
Alina is a likeable enough protagonist, as she cares for Ravka, and she refuses to leave it at the mercy of the Darkling. Throughout
Siege and Storm
, she grapples with many demons, and no matter how powerful the temptation may be, she follows the right path and does the best she can. Although she has risen in status, she still feels just as lonely and desolate as she did before discovering her powers. She once depended on her oldest friend and first love, Mal, for some much-needed levity during stressful times, but in
Siege and Storm
, their relationship is riddled with problems. Mal is no caged bird that will simply follow Alina wherever she goes, and it is not in his nature to stand in her shadow. And as Alina changes more and more, Mal can't help but fear that the old Alina, his Alina that he loved and grew up with, is no more. I could understand all of the issues Mal and Alina had, and while I hated seeing them this way, I'm glad that their relationship did not go smoothly because that would have been unrealistic. I can only hope that these two lovebirds can solve all of their problems before the series ends, as I'm rooting for the two of them. Mal is Alina's anchor to the real world, and he offers her a reminder of all she cares about, and I believe he will keep her grounded in the future.
As always, Leigh Bardugo's skill as a writer shone through in
Siege and Storm
. Ever since I read
Shadow and Bone
, I have gained a deep appreciation of Bardugo's lovely writing and attention to detail, and
Siege and Storm
is just as skillfully written as
Shadow and Bone,
if not more. Her wonderful storytelling transports you to a magical world where a war is being waged between darkness and light, bad and good, shadows and sun. Yet it's not all black and white, as there are many shades of gray. Each character, with their complex layers of personality just waiting to be uncovered, has the potential to surprise you. Even the villain, the Darkling himself, can be appreciated for his characterization, and his refusal to stick to the conventional rules for antagonists. The Darkling may have done horrible things, but even I can pity him after realizing how much he suffers in his loneliness and his insecurities. Bardugo is truly a gifted writer if she can convince me to empathize with even the most despicable of characters.
After reading
Siege and Storm
, I'm even more anxious to pick up
Ruin and Rising
, even as I dread seeing this series come to an end. I look forward to revisiting this enchanting world, and meeting all of these characters once again, especially Sturmhond. I'd recommend this series to any fans of fantasy, or really anyone who is looking to escape reality for just a little while. You will not be disappointed.