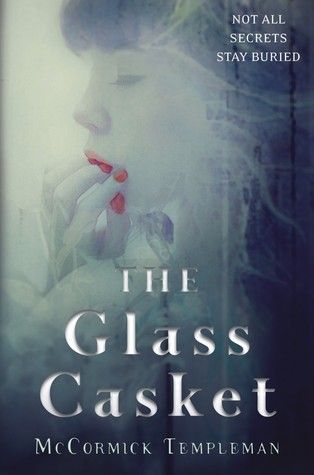 Title:
The Glass Casket
Author:
McCormick Templeman
Published:
February 11, 2014
Publisher:
Delacorte Press
Genre:
Young Adult Fantasy, Retelling
Pages:
352
Source:
Purchased
Rating:
3.5 stars
Goodreads
|
Amazon
|
Barnes & Noble
"It was a coffin. A glass coffin, intricately carved, and set out in the yard for all to see. Inside it was the girl, her black hair splayed out around her, her lips like rotting cherries set against a newly ashen complexion."
― McCormick Templeman, The Glass Casket

Synopsis
Death hasn't visited Rowan Rose since it took her mother when Rowan was only a little girl. But that changes one bleak morning, when five horses and their riders thunder into her village and through the forest, disappearing into the hills. Days later, the riders' bodies are found, and though no one can say for certain what happened in their final hours, their remains prove that whatever it was must have been brutal.

Rowan's village was once a tranquil place, but now things have changed. Something has followed the path those riders made and has come down from the hills, through the forest, and into the village. Beast or man, it has brought death to Rowan's door once again.

Only this time, its appetite is insatiable. (Goodreads)
My Thoughts
The Glass Casket
is a chilling, atmospheric tale that sent shivers down my spine and had me imagining all sorts of horrors when I heard the creak of a floorboard or the thump of a cat's feet hitting the floor. I could not help but admire the beautiful writing, and I fell headfirst into this suspenseful story, flying through the pages in my excitement to find out what would happen next. It borrows many elements from the classic fairy tales, resembling the darker tales you may have read from the Grimm Brothers and Hans Christian Anderson. Far from the modern fairy tale retellings where happily ever after is a given,
The Glass Casket
unravels a much more sinister, gruesome story that I rather enjoyed. Yet while I loved the first 95% of the book, I have to say I was disappointed with its conclusion, and I closed the book feeling let down in some way.
The Glass Casket
is a suspenseful read that leaves you biting your nails in anticipation of what will happen next. You can't help but fear for Rowan's safety, as she finds herself in many dangerous situations. At first, the village appears to be cozy and tranquil, but it is only a matter of time before that illusion of safety is shattered. At night, the villagers hide behind barred doors and closed shutters, but the evil that lurks in the woods needs no key to enter a home. The woods are a unknown realm, filled with an ancient magic that is deadly as it is also enchanting.
The Glass Casket
will give you goosebumps, as there are terrifying scenes scattered throughout its pages, but I would still recommend it to those who are not necessarily fans of horror. The scary parts are not all that this book has to offer, as there's also a mystery to uncover, touches of fantasy and a lovely romance.
I found the wintry feel of
The Glass Casket
to be very appropriate. No matter what horrid events transpire, the snow continues to fall, almost as if in an attempt to cover the atrocities in a white blanket. The naked trees and early nightfall offered a bleak atmosphere, which was fitting for such a dark tale. In the daytime, we are almost lured into a sense of security, only to realize danger is still close by once night falls. Templeman's descriptions were detailed and simply lovely, giving life to a setting that may be inhospitable, but still offered a cold, unforgiving beauty. I'm not entirely sure where this novel takes place, but I never felt a strong desire to know where. Perhaps, their village Nag's End is in Colonial America? Either way, it felt like a fantasy world, filled with witches and fairies and nixies, and set in a village filled with superstition and fear.
At the very start of the book, I was worried
The Glass Casket
might have one of those messy love quadrangles that I despise, but, thankfully, this was not the case at all. For most of the book, the romance was absolutely delightful, and I was anxious to see how it would unfold. It's one of those slow burn romances where antagonism slowly builds into something else entirely, making for a wonderful reading experience as you watch the two characters begin to open their hearts to each other. This happens to be my favorite type of romance. I love watching a relationship slowly develop, and while Rowan seemed to miss some obvious clues to how the guy felt, I still enjoyed the romance immensely. Until the end that is. After watching these two characters quarrel throughout the book, I think the romance should have played out differently than it did. I thought the ending was rushed in an attempt to neatly wrap up all loose ends, and I was hoping for a much more convincing ending. Instead, the ending left me with some unanswered questions, and some answers I just didn't find satisfying.
The Glass Casket
also suffers from the unique case of featuring both a slow burn attraction and instalove. There are two couples that find love in
The Glass Casket,
and while one romance slowly progresses, the other is basically love at first sight. When Fiona and Tom meet, they share a instant connection, and after only a couple of meetings, they want to spend the rest of their lives together. I was wondering if some supernatural force was at play, but that never seemed to be the case, leaving me slightly annoyed and confused by their deep bond. There were certain aspects of the story like this one that I felt could have been done better. I was hoping that everything would make sense by the end of the book, and while some parts were made clearer, I still found myself craving more.
Despite my misgivings, I found
The Glass Casket
to be a unique read, reminding me of some of my favorite fairy tales while also bringing something new to the table. The ending could have been better, but its beautiful writing captivated me from the very start. I'd recommend it to anyone up for an eerie read that will have you sleeping with the light on.